Summary
Dong-A Spica & Dong-A Capella said to have been sold @ $48 each to two sperate Greek buyers.
10% below our current generic fair value for a similar vessel, which is under revision for downgrade.
Consistent with our September report where we forecast asset values down ~10% by 2Q18E.
Last comparable done was the 2018 resale RS Kaystros sold to Polembros @ $49m in late October.
Key takeaway: Current asset values below current broker quotes + added downside risk as the Winter market draws to an end around 1Q18.
From our Twitter account: "2 #Suezmax resales sold @$48m each to #Greek buyers. 10% below or generic $53.5m for similar vessels (graph1), & consistent with our Sept report (LINK) where we argued 2Q18 could mark the through for vessel & share values $FRO $GNRT $EURN $DHT $NAT $TNK Oil Tanker Sector Upgraded to HOLD (SELL): Trade on Volatility as Recovery Looms "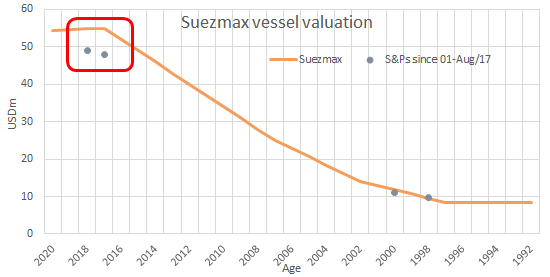 Our September Sector Report: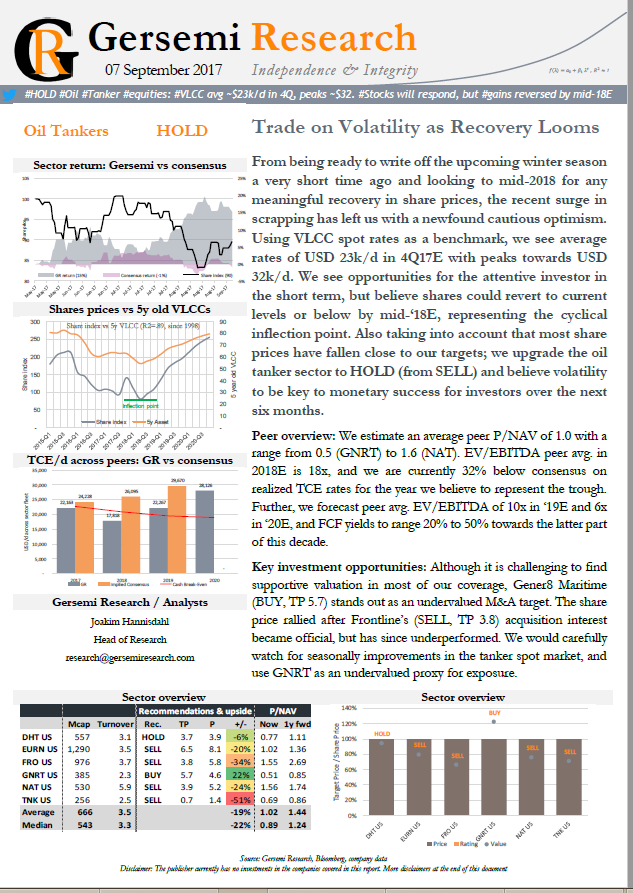 Source: Gersemi Research, Bloomberg, company data
Disclaimer: The publisher currently owns shares in GNRT. More disclaimers at the end of this document. More disclaimers in the September sector report