Gersemi (meaning 'riches' or 'treasure') is the beautiful daughter of Freya and Od, according to Norse mythology. 
Gersemi Research is an independent investment and equity research platform with primary focus on shipping and oil services.  We offer wide variety of services, including research, investment advise, fund management and consultancy. We have a proven track-record of significantly and consistently outperforming consensus and generating returns above the SP500 over many years.
Mr. Joakim Hannisdahl, our Head of Research, has several years of experience as a Shipping Analyst on equities at Nordea Markets and Fearnley Securities. He holds a Master of Commerce (extension) with specializations both in Financial Econometrics and Funds Management (UNSW), in addition to a Bachelor of Social Sciences with specializations in both Economics and International Relations (NTNU). He is currently investing private funds, among other engagements.
Stock Recommendations
We have consistently and significantly outperformed both the market and consensus over time. Since 2014, our stock recommendations within shipping have returned 74%. Consensus' recommendation on the same shares have returned a loss of -52% in the same period, while an index of the shares is down 54% (as of April/'18).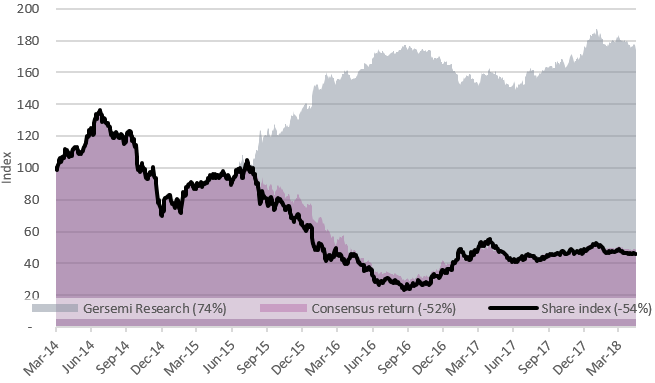 Our research is widely acknowledged among institutional and retail investors alike. Please find some samples below:
Feb/2018: Firing on all Cylinders (26-page report)
Apr/2018: LPG Shipping (BUY): Do Not Liquidate Palatable Growth (34-page report)
Jun/2018: Genco Shipping (BUY, TP 24): Value Destruction
Gersemi is also a widely cited source in the most renowed shipping industry media outlet TradeWinds and a variety of other news outlets.
Investments
We have been managing a portfolio of shipping/oil service shares since 2016, and have generated 82% return on average capital employed since inception. 81% in 2016, 21% in 2017 and 11% YTD (as of April/'18). Full transaction list available to our clients.