Golden Ocean declared a $0.10 DPS for 4Q17, spot on our forecast but taking consensus by surprise. The numbers were roughly in-line with our estimates but above consensus. The share price reacted accordingly and ended the day +2.8% d/d in Oslo. We reiterate our BUY rating and $12.5 target price ahead of continued fundamental improvements ahead.
4Q17 review: Net sales of $122m in the quarter came in $8m above our forecast ($15 above consensus), although offset by operational cost of $61m vs our forecast of $51m and consensus at $49m. Thus, reported EBITDA of $61m was slightly below our $63m forecast but above consensus at $58m. Net finance was similar to our $16m forecast, but a $2m gain on derivatives and other minor adjustments led to a PTP of $27m which was equal to our $27m expectation (consensus at $23m). The most important event was the reinstatement of dividends after the last pay-out in 2014. After the resumption of regular debt payments, we had precisely predicted the DPS of $0.10 declared for the quarter. However, the announcement took the market by surprise against the street's forecast of a zero dividend. This is likely the main reason behind the 2.8% share appreciation d/d today.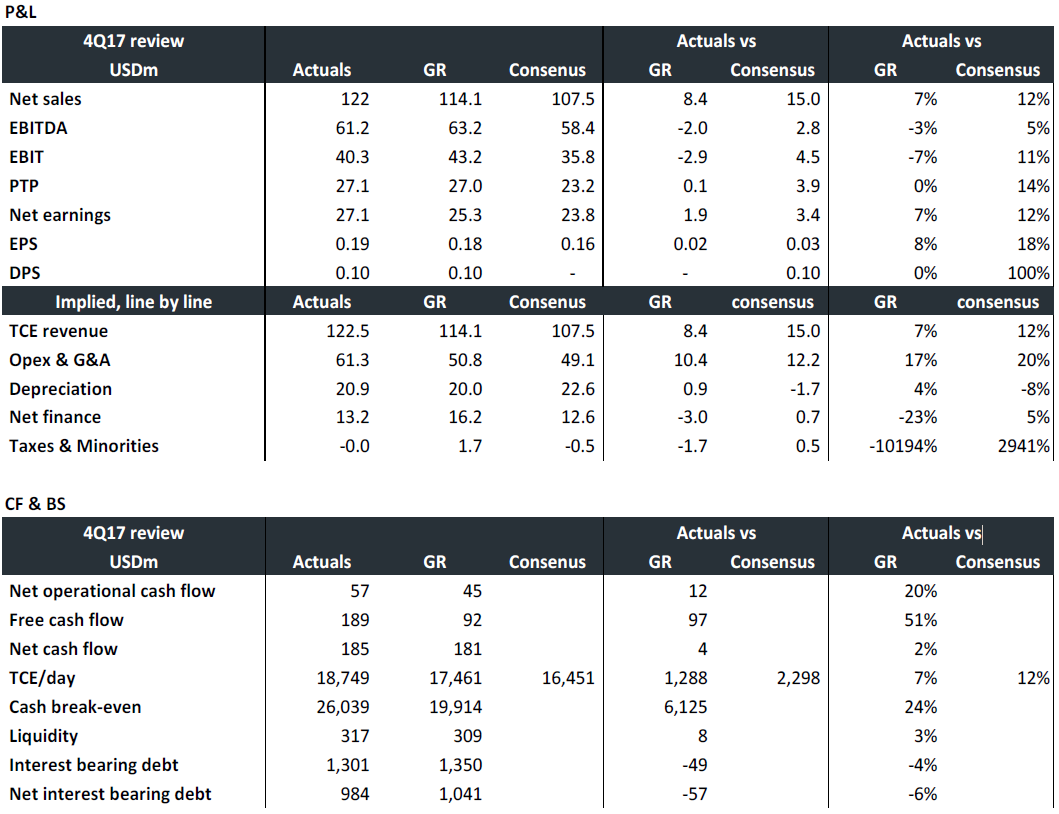 Investment case: Although priced at a 34% premium to NAV vs the peer median at a 2% discount, it is not discouraging as the company has historically been trading at a premium to peers due to its track-record of investor friendly policies. Given our forecast of improving fundamentals going forward, we see an EV/EBITDA of 5.7 in 2019E (peer median at 4.1) and a potential dividend yield of 16% (peer 17%). Although our target implies a 32% share price appreciation, we see higher upside potential in GNK (BUY, 26), SBLK (BUY, 21) and DSX (BUY, 6.7), which remain our top picks in the segment. We also keep a keen eye on BULK (BUY, 198) with listing in NY scheduled for 2018.